What is a Prescription Discount Card?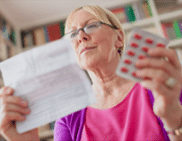 A prescription discount card is a free savings card that you display to the pharmacy during checkout to receive a discount on your medication purchase. Prescription discount cards are free to use and can sometimes save a customer up to 80% on their prescribed medicine.
Good prescription discount cards like the LowerMyRx card are wise price savings options available for your entire family. Get your free prescription discount card right away and use it the very next time you fill or refill your Rx.